President Obama lays out plan for ailing auto industry
In a statement directed at Americans nervous about the auto industry, President Barack Obama outlined his administrations further involvement in helping the struggling auto makers.  That includes the Obama administration forcing GM Chairman and CEO Rick Wagoner to resign.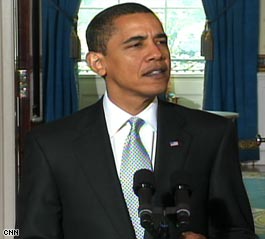 The President said that the plans formerly submitted by GM and Chrysler are unacceptable, and he wants them to take another run at it.  In the meantime, they will have to submit to guidelines set by the federal government in order to receive additional federal funds.  Obama said GM and Chrysler will have "limited additional periods of time" to produce plans that inspire confidence from the American citizens who their are asking to give them aid.
He also called on others to make concessions, including auto workers and their unions, auto dealers, and suppliers. Though much of the news is bleak, Obama cited GM producing the 2008 North American Car of the Year (Chevy Malibu), and Chrysler for the Buick's recognition in the area of reliability.
Obama said that the business plans submitted to the government were "not strong enough" and additional measures were necessary for them to become viable once again.  The first step to that end was his auto task force pushing Wagoner out as CEO.
The government will give GM 60 days of working capital to try to push through it's financial situation.  He paused to emphasize the fact that the government has "no intentions in running or interest in running GM."
Obama said the situation at Chrysler is "more challenging" and that the company may not survive without a partnership with Italian automaker FIAT.  The Obama administration is giving Chrysler 30 days to work out a deal with FIAT in order to receive up to $6 Billion in additional government aid.
After detailing the state of the trouble car companies, Obama acknowledged that bankruptcy is still an option.  He look to soften the effects of the 'B' word by saying that neither company would be broken up and sold off if bankruptcy codes were used.  Obama listed four steps his administration is focused on relating to the auto industry:
Ensuring relief funds get to designated entities as soon as possible.
Increasing credit flow
Alerting consumers of tax benefits for cars purchased between Feb. 16th and year end.
Pursuing a program with Congress that offers tax incentives to those purchase energy efficient cars to replace less efficient models.
Obama ended his statement by underscoring the importance of the auto industry in the United States.  He said that it wasn't important just to the the Midwest which has been hardest hit, but all Americans.
Photo credit CNN.com