Soon after the GOP debate ended, analysts and pundits began to breakdown Governor Rick Perry's ability to only name 66% of the three agencies he would end as president. In the 15 or so minutes that had followed the debate I heard at least a half dozen people say Perry's presidential aspiration were officially over. Perry himself acknowledged his gaffe, "I'm glad I had my boots on tonight…..I stepped in it out there."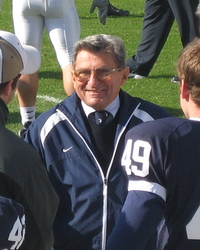 I was actually watching CNN when Isha Sesay appeared on the screen with breaking news that Penn State University was holding a press conference.  John Surma was at the microphone and he announced that head football coach Joe Paterno and school president Graham Spanier had been relieved of their duties.  The Twitterverse immediately shifted from Perry to Paterno.
When the news stations went back to analyzing the debate, Rick Perry's brain freeze took a bit of a back seat to the goings on in State College, PA. Since Monday the horrific events at Penn State went beyond the sports page.  Tonight Penn State has overshadowed a pretty interesting debate and provided Rick Perry with a bit of political cover at least until the morning.