T.J. Holmes leaving CNN for BET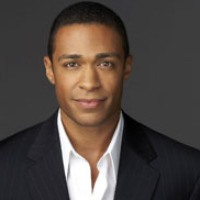 CNN journalist T.J. Holmes who recently announced he was departing the network at the end of the year has found a new home.  According to the BET website, Holmes has signed a "multi-platform talent agreement."
From the BET Website:
"We are simply ecstatic to have T.J. Holmes coming to our fold. He's been an outstanding news anchor and we look forward to working with him in a variety of new ways on BET," said Stephen G. Hill, President of Music Programming and Specials at BET Networks. "It's now upon us to develop vehicles that capture his intelligence, curiosity about the world, warmth, humor and compassion. It's a challenge that we are happy to have."
T.J. Holmes is a talented guy and this is a great move for a network that has slowly but surely built up trust with the community.  The competition from T.V. One has been good for BET.  I look forward to following T.J. and wish him much success.