The Root Spotlights the Nation's Top Young African-American Trailblazers Meet The 2012 Young Futurists Honorees
The Wire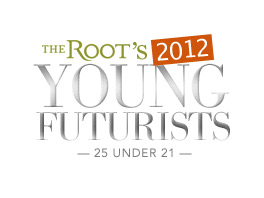 Blake Leeper:  an athlete who is changing people's perspectives on people with disabilities and who is vying to compete at the Paralympic Games this year in London.  Adam Holland: a 16 year-old young capitalist who started a highly successful shaved ice business to help pay for his sister's education.  Adele Taylor: a 16 year-old who launched a book donation program called Adele's Literacy Library that has distributed more than 5,000 books in her hometown.  Today, leading African-American news site The Root unveiled this year's 2012 Young Futurists List– an annual list spotlighting the top young African-American leaders and innovators of the future.
The Young Futurists are between the ages of 16 and 22 and are committed to making the world a better place in which to live.  Each year, The Root conducts an open nomination process, seeking candidates who are not only achievers but also innovators in the worlds of green innovation, science and technology, arts and culture, social activism and business enterprise.  Past Young Futuristshave started non-profits and invented unique technologies, among other creative and praiseworthy ventures.  Nominations are submitted from across the U.S. and only 25 are selected each year.
"The Young Futurists list honors trailblazing African-American leaders under 21 who will shape our future, our communities, and our daily conversations with work that matters," said Managing Editor Sheryl Huggins Salomon. Their range of talent, drive and commitment is so inspiring and they are clearly having an impact on our lives and our communities."
Other Young Futurists include green innovator Kendyl Crawley-Crawford, a 2012 Marshall Scholar who has traveled to the South Pacific to document environmental issues; Sydney Shaves, a 16 year-old who filmed a documentary "Elvira's Eyes" that chronicles a genealogical journey through 106 years of her slave ancestor's life; and Brandon Turner, a Wake Forest University senior whose investigation into the molecular structure of proteins for future drug development led him to be one of just 30 U.S. students named Rhodes scholars this year.
The 2012 Young Futurists list including biographies, photos, and details on why each honoree was selected can be found atwww.theroot.com/young-futurists-2012.