Mary J. Blige — Burger King Chicken Ad Was Not What I Expected
Mary J. Blige says she never signed off on the controversial fried chicken ad that she shot for Burger King— at least not the version that was blasted on the Internet.
In a statement, Mary J. tells TMZ, "I agreed to be a part of a fun and creative campaign that was supposed to feature a dream sequence. Unfortunately, that's not what was happening in that clip."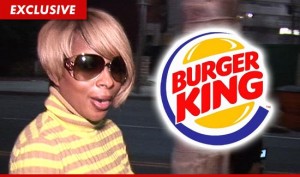 The spot — which Burger King has since yanked from its YouTube site — features Mary singing about a new crispy chicken wrap. The ad drew tons of criticism on Twitter for playing off a stereotype about African-Americans and chicken.
Mary also says, "I understand my fans being upset by what they saw. But, if you're a Mary fan, you have to know I would never allow an unfinished spot like the one you saw to go out."
Burger King confirms the ad was released prematurely … "before all of the licensing and final approvals were obtained." The fast food giant also says, "We would like to apologize to Mary J. and all of her fans for airing an ad that was not final."
Burger King says the final … approved version will be released soon.